The 'Tamborrada of San Sebastian' is a celebratory drum festival that takes place in San Sebastian, a city in the north of Spain. Every year, on the 20th of January at midnight, the mayor raises the flag of the city in the 'Konstituzio Plaza', which symbolizes the beginning of the festivity that lasts for 24 hours.
The people of the city dress as cooks and soldiers from the Napoleonic times that will march with their respective companies across San Sebastian.  The companies are groups of men and women drummers that often have
marching playing along. The most important company is 'Sociedad Gaztelubide', which is the official band in charge of the opening and closing of the celebrations.
The formations are composed of Markers, Color guard, 'Cantineras', Drum major, Drum section, Barrel drum section and a Marching band. These companies will play a collection of songs as they march through the streets of the city. However, there is a song played at the beginning and end of the celebrations. The Old March, composed by José Juan Santesteban and added to the song list in 2013 was already used in the 1830s as part of the festivities that marked the siege of San Sebastian back in 1813.
As mentioned before, the Tamborrada starts the 20th of January at midnight, traditionally called 'Noche de la Tamborrada'. Adults will have dinner in gourmet clubs and then will head towards the 'Konstituzio Plaza' where the inauguration occurs.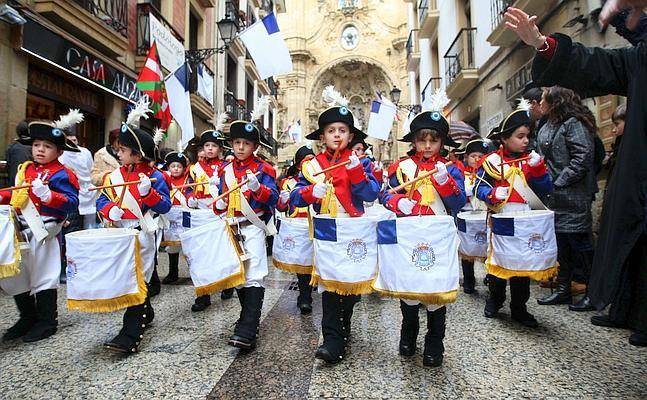 After a night of playing drums, children will have their own version of the Tamborrada and will march around San Sebastian representing their schools. Over 52 formations from schools join the city festivities after 143 companies and close to 18,000 adults marched the previous night.
The Tamborrada will come to an end at midnight on the following day in the same place and same way it started. The 'Sociedad Gaztelubide' will play the Old March and the flag of the city will be lowered down symbolizing the conclusion of the celebrations until next year.